Christopher Reeve Doctor of Humane Letters
Honorary Degree Citation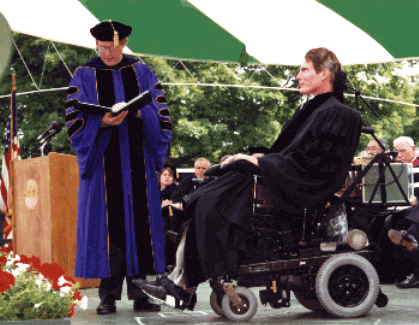 We recognize in you three very different lives.
First, there was the life of the accomplished and critically acclaimed actor. You seemed born to the stage, and by age 16 were performing at Princeton University's McCarter Theater and interning at the Williamstown Theatre Festival. Your training at the Juilliard School led to many fine roles. Well known for the screen character of Superman, lovers of theatre and film have admired your wide-ranging performances -- on Broadway playing opposite Katharine Hepburn in A Matter of Gravity, in films such as The Bostonians and Remains of the Day, and in great regional theaters, most notably numerous performances here in Williamstown.
Your second life was a brief one, on the edge of death and despair, after a tragic riding accident severed your spine, when life was literally a matter of choice, made with courage and love.
Astoundingly, that life-in-death lasted only a few weeks. Within months you were in the public eye, interviewing with Barbara Walters, attending a dinner of the Creative Coalition, speaking at the Academy Awards. Your third life had already begun. You have had the courage to live -- for self, for family, and for others. In your first life, you were notable in your devotion to the social good in such causes as Amnesty International, Save the Children, the Creative Coalition, and the National Endowment for the Arts. Now that penchant for service has turned to the cause of overcoming the devastating effects of spinal injury in yourself and others, through your own Foundation in affiliation with the American Paralysis Association. Your work has already greatly strengthened the research agenda that you are sure will lead soon to the capacity to regenerate and reconnect the nervous system and allow those paralyzed by spinal injury to return to regular lives. With characteristic humility and matter-of-factness, you have said of your efforts in advocacy: "It's not a job I would have chosen, but one that I fully embrace."
Physical reconnection, however, has not been necessary for you to reconnect with your first life -- as director of the 1997 Home Box Office movie In the Gloaming and, most recently, as star of the television remake of the classic film Rear Window. A star has returned to the screen, one hopes some day also to the theatre, and surely a new star has been born on the stage of life.
I now declare you recipient of the honorary degree of Doctor of Humane Letters, entitled to all the rights, honors, and privileges appertaining thereto.
June 6, 1999
---

News Reports | Biography | Fundraising | Online Shop | Autobiography
Movie Reviews | Contact Info | Have Your Say | Photo Gallery | Song Lyrics
Transcripts | Mailing Lists | Interviews | Other Websites | About Us | Search
---
This page is Copyright © 1999-2005, Steven Younis. All Rights Reserved
---
Jump to Steven Younis' unofficial Superman Homepage