Noises Off (1992)

Character Names: Frederick Dallas/Phillip Brent
---
Reviewed by Judy Thomas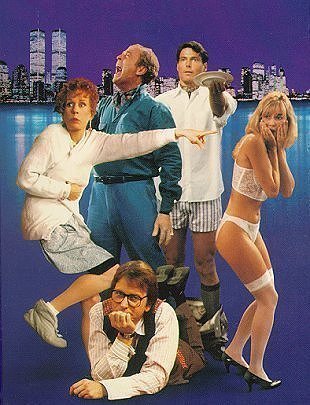 It is not often that filmmakers take on the daunting task of turning a play with only one or two sets - and inevitable audience claustrophobia - into a motion picture. So it has to be a major coincidence that both times they worked together, Michael Caine and Christopher Reeve were in screen adaptations of two very good and very different hit plays. The first was, of course, the wonderfully wicked Deathtrap. The second, Noises Off, based on a play by Michael Frayn, is a clever variation of the traditional British sex farce with lots of slamming doors, falling pants, double entendre, mistaken identities, and running gags - including a disappearing plate of sardines.
Adapted for the screen by Marty Kaplan, Noises Off focuses on the tumult, on-stage and off, of an American troupe of actors during the pre-Broadway tour of their play: Nothing On. The setting for Nothing On is an English mansion owned by the characters played by Christopher Reeve and Marilu Henner who have slipped back into Britain from their tax haven in Spain. Carol Burnett is the slovenly housekeeper, Denholm Elliott plays an elderly burglar, and John Ritter is a real estate agent planning to give sexy Nicolette Sheridan (who wears only a bra, panties, and heels for most of the film) a personal tour of the bedrooms. Julie Hagerty and Mark Linn-Baker are a couple of besieged stage managers. And the burnt-out stage director of this inept troupe is Michael Caine who relies on sarcasm and Valium to keep him going. Sample quote from Caine describing his players: "Like the band playing on as the Titanic sank."
However mad the happenings onstage may be, the action behind the scenes is even more hilarious as the actors cope with rivalries, romantic entanglements, an alcoholic and hard-of-hearing cast member, plus all manner of disasters. As Desson Howe wrote in his Washington Post review: "When one cog goes loose in this farce - from a missing plate of sardines to a missed cue - everything goes wrong. Everything, of course, does. Nothing On becomes a roadshow of missed entrances, jammed stage doors and backstage warfare. When one actor is angry at another, the vengeful possibilities are endless. Ritter comes onstage to find his shoelaces have been tied together. After a backstage fight, Burnett is propelled onstage by an unidentified foot; two characters dressed as Arab sheiks find their robes are attached." With his long stage career, dating back to his pre-teens, Reeve invariably pointed out in interviews how true to life it all was. And anyone who has ever appeared in a play - even the high school variety - has to love this film.
Christopher Reeve plays Frederick Dallas (Freddie), who behind his suave leading man exterior, is both insecure and a bit dim. As Reeve pointed out in an interview, "as soon as he runs out of dialog, he's a zero." This leads to some wonderful scenes as when, in the middle of the night before the play opens, Freddie stops rehearsal because he needs to know his character's "motivation" for carrying a box of groceries into the study. The response by Caine's director is predictably caustic until he learns that Freddie's wife has just left him; at which point he comes up with an absurd, but convincing to Freddie, explanation for the character's actions. Satisfied, Freddie embraces the groceries like a security blanket and gratefully exits the stage.
Freddie is, moreover, a gentle soul who gets a nosebleed at the mere suggestion of violence. After two heads bump during one of the cast's frequent searches for Sheridan's lost contact lens, Reeve's character vicariously feels the pain and starts to bleed. And when Ritter jealously takes after him with murderous intent upon discovering that Freddie has (innocently) spent the night with Burnett, the result is hysterical. But for pure, wonderful, looniness, my favorite scene has to be the one that has Reeve hopping up a flight of stairs after Sheridan, a plate of sardines Crazy-glued to one hand, a tax bill to the other, and his pants fallen down around his ankles.
Most critics felt that director Peter Bogdanovitch and his cast did an extraordinarily fine job in the nearly impossible task of adapting Noises Off for the screen. Although it often looks like chaos - one reviewer compared it to the total mania of a classic Marx Brothers movie - every move of each actor had to be carefully choreographed. Carol Burnett, who knows a thing or two about comedy, said "it's one of the hardest things I've ever done because it's so precise." Michael Caine pointed out that "you can't ad-lib anything because it's all timing," and several performers good-naturedly mentioned that everyone was covered with bruises after filming. Christopher Reeve was thrilled with the opportunity to do the kind of broad physical comedy he'd done many times on stage saying: "I love doing that stuff... and just haven't really had a chance to do it in the movies."
It is a true ensemble cast. Reeve pointed out: "We all know we are going to get our moment in the limelight. All the parts are equal and we just give to each other." This led to a "wonderful atmosphere that you don't often get in the movies." Filmed at Disney's Touchstone Studios, the veterans, Burnett and Caine, kept the younger performers enthralled during breaks in filming with stories from their illustrious careers. Caine and Reeve had been friends since their Deathtrap days (Caine joked in interviews that a clause in their Noises Off contracts said they would not have to kiss) and Reeve and Burnett hit it off in a big way. As part of the promotion for Noises Off, Reeve made a wonderful appearance on The Carol Burnett Show in which he participated in a number of skits including a dead-on impersonation of Arnold Schwarzenegger as a thoroughly domesticated Terminator. 1992, the year in which Reeve would turn 40, was, in fact, an idyllic time for him. His career was moving back on track after several disappointing films; and during the promotional interviews he did for Noises Off, Reeve glowed when he spoke of his upcoming marriage to long-time love, Dana Morosini.
There is a video of Noises Off available and the film appeared on several cable channels, including Showtime and The Movie Channel, in the summer of 1998. When you watch it, keep in mind that this is not so much a motion picture as a filmed play within a play. In fact, John Ritter mentioned in an interview that they rehearsed it as a play and the presence of cameras seemed intrusive. It's also a good idea to give Noises Off your undivided attention. I was distracted the first time I watched this film and soon became hopelessly lost. I have since seen it several times, paying attention, and with each viewing discovered something more to enjoy.
Just as I was finishing this review I noticed that several people in a cinema newsgroup were compiling their lists of the ten all-time greatest films. I was delighted to see that one person put Noises Off fourth on his list (tied with Close Encounters of the Third Kind). He called this film "the funniest I've ever seen." Give it a chance and you just might agree with him.
REVIEWS
This kind of door-slamming comedy doesn't ever work on film - but Bogdanovich comes closer than anyone ever has before, with the help of a willing cast. Leonard Maltin, Leonard Maltin's Movie & Video Guide.
Bogdanovich has cast actors you want to see... in a production that grows increasingly impossible to watch. Michael Sragow, The New Yorker.
Marilu Henner suffices as the wife, and - I can hardly believe this as I type it - Christopher Reeves (sp.) old cement-block Superman himself, is limber as the husband and is appealingly ridiculous backstage as the actor who plays the husband.... Noises Off is a rare commodity: a big bundle of farcical energy tied up with virtuso glitter. Stanley Kauffmann, The New Republic.
A Rube Goldberg contraption that self-destructs with awesome comic precision, Noises Off unavoidably loses some of its brilliance on film: much of the fun was the suspense of seeing live actors survive the daredevil demands of the slapstick. Still Bogdanovich's frenetic transplant - Americanized by writer Marty Kaplan - supplies so many belly laughs it seems ill-spirited to complain. David Ansen, Newsweek.
---


News Reports | Biography | Fundraising | Online Shop | Autobiography
Movie Reviews | Contact Info | Have Your Say | Photo Gallery | Song Lyrics
Transcripts | Mailing Lists | Interviews | Other Websites | About Us | Search
---
This page is Copyright © 1999-2014, Steven Younis. All Rights Reserved
---
Jump to Steven Younis' unofficial Superman Homepage