Gray Lady Down (1978)

Character Name: Officer Phillips

---
Reviewed by Dawn Jones (dj_intheuk@yahoo.com)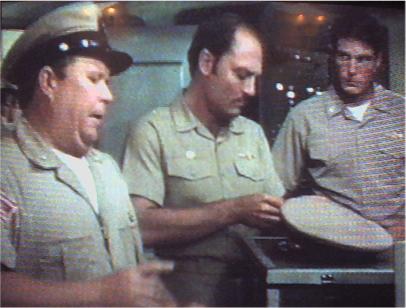 One of the biggest movie genres of the 1970s was the disaster movie. Based upon the novel Event 1000 by Davia Lavallee, Gray Lady Down was one such disaster movie of the '70s about a US submarine that sinks to the bottom of the Atlantic Ocean after colliding with a Norwegian submarine causing damage and causalities to the US crew on board. For this his first film, Christopher Reeve worked alongside a cast of well known names that included Charlton Heston, Stacey Keach, David Carradine, and Ned Beatty with whom Reeve would work with again in future projects such as Superman: The Movie, Superman II, and Switching Channels. Unfortunately for Christopher Reeve fans, it is these cast members that get greater screen time than Reeve himself.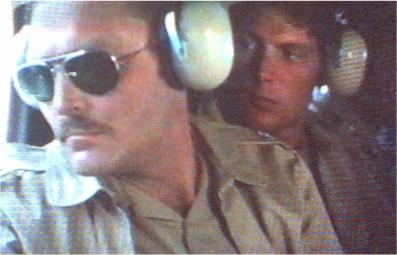 The plot revolves around Captain Bennet (Stacey Keach), the inventors of the submarine rescue machine SNARK Captain Gates (David Carridine), and DSRV crew attempting to rescue Captain Paul Blanchard (Charlton Heston) who on his last trip before retirement finds himself and his crew in deep trouble after his submarine sinks to the bottom of the ocean. And if that wasn't bad enough Captain Blanchard and the rescue team also has to deal with gravity slides under the ocean that rocks the submarine and causes further casualties on board. Reeve's character, Officer Phillips, is an assistant to Stacey Keach's Captain Bennet. The first scene in which Reeve appears he is sitting beside Stacey Keach in a helicopter and co-incidentally it was during this time in his life that Reeve successfully obtained his own pilots license and would later spend his days off work flying his own plane. Reeve's big moment is when Officer Phillips counts down a bomb detonation from 15-0 seconds. In his autobiography, Still Me, Reeve confessed to standing, "As close as possible to Stacey Keach for more on screen time," and that, "It was a pleasant experience spending several weeks on Navy vessels off the coast of San Diego." In an interview with Playgirl magazine promoting Superman: The Movie in January 1979 Reeve spoke of Gray Lady Down stating, ""I thought for awhile I would like to do a movie. Then I was offered a submarine drama Gray Lady Down, with Charlton Heston, David Carridine and Ned Beatty. It was quite a small part, but to be honest, it would have satisfied my ego for the time being, even if this [Superman: The Movie] hadn't come along." In Dana Reeve's Care Packages: Letters To Christopher Reeve From Strangers and Other Friends, a publication of some of the letters sent to Reeve at the time of his horse riding accident that left him paralysed, is a touching letter sent by Michael O'Keefe who recalls the time he spent sharing a house with Reeve whilst they were filming Gray Lady Down. In his letter to Reeve, O'Keefe recalls the time when Reeve accidentally burnt some English muffins and walking the house owner's German Shepherd dog named Himmler. O'Keefe wrote, "Gray Lady Down was of course our debut picture, and every once in a while it comes on TV. I remember you practicing your lines at night, making tortured choices between one line delivery or another as only a young actor can. You looked pretty dashing back then. Whereas I looked like a refugee from the potato famine in Ireland."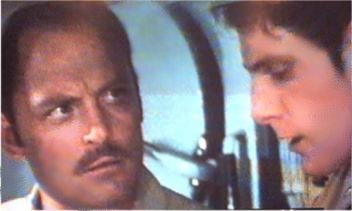 My favourite scenes in this film are of course those that feature Christopher Reeve. So a favourite moment is when Officer Phillips counts down the bomb detonation from 15-0. You may wrongly mistake Reeve for mispronouncing "nine" in the countdown as "niner" but this is in fact the correct military speak for the word. It is amusing to hear because it really does sound as if Reeve has got one of his few lines wrong to those not in the know about the correct military terms. Because of Reeve's small part in the film his lines are generally short stock lines of "Aye sir", "Yes sir", "No sir" or, "Looks bad sir". There are more subtle scenes in which Phillips (Reeve) has no lines but it is clear that Reeve is making the most of his on screen time, be it nodding in agreement with the suggestions of Captain Bennet, or celebrating the success of a tactic to aid in the rescue of the submarine, or looking concerned for the crew members aboard the sunken submarine (and there is a lot of this by nearly all the characters!)
The biggest problem with this film is not the performance of the actors themselves but the script and the plot. It is a bit predictable. Whilst I haven't revealed the fate of the sunken submarine in this review, you can probably guess the outcome correctly. This is after all a Charlton Heston movie, and Heston usually saves the day. The story is also a little repetitive. The film consists of repeated gravity slides which each time causes havoc and casualties on board the submarine. Similarly on land there are repeated efforts - albeit using different methods - of attempting to save the submarine, but it all seems to move at a snails pace and lacks the tension and suspense of other disaster movies. Consequently reviews of this film were pretty harsh and it flopped at the box office. Reeve writes, "The script was mediocre, and most of us (and later the critics) referred to the film as "a disaster about a disaster."" One critic described the film as "Airport '77 played underwater." Since Reeve's part was small he received little mention in the reviews. One exception was a review in Playboy magazine that stated: "Nice work in a minor role by Christopher Reeve."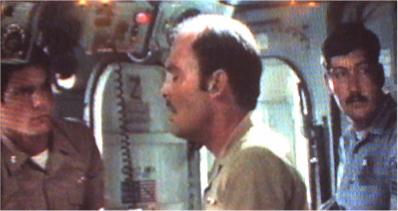 Despite the fact that Reeve has only a small amount of screen time, this movie will be of interest to fans curious to see him in a role before he became a household name. This is Reeve's first movie role. Up to this point the only work Reeve had done in front of the camera was that of Ben Harper in the US television soap Love of Life - episodes of which are hard to come by since it is no longer shown on television. Gray Lady Down is available on DVD and video in the United States.
Upon completion of Gray Lady Down Reeve stayed in Los Angeles for a while but failed to find any work that appealed to him. He auditioned for a part in the TV miniseries The Captain and The Kings but the part went to Richard Jordan. Author Chris Nickson quotes Reeve as saying, "I was twenty four years old and being very hard on myself. I felt I'm really not very good. I felt tense and unhappy. I went to L.A. and sat on the beach for a while. Whenever my agent tried to find me for a callback, I'd be gone. It didn't seem to matter, which is one of the signs of depression." By October of that year Reeve was fed up of auditioning for parts he didn't want and went back to New York. He was quickly back on his feet and on stage again with his friend Bill Hurt in the Corrine Jaecker play My Life. Meanwhile casting director Lynn Stallmaster who had been in charge of casting Gray Lady Down had been relentlessly putting Christopher Reeve's photo and resume on the pile of film producers looking for an actor to play the lead role in a big budget film. Stallmaster eventually persuaded the producers to agree to a meeting with Reeve. By January the following year Reeve would be called by his agent to meet with the director of this big budget movie. As a result Reeve went on to audition for a part that would propel him to worldwide stardom, and become his most famous and celebrated role - Superman. The rest as they say, is history.
---

News Reports | Biography | Fundraising | Online Shop | Autobiography
Movie Reviews | Contact Info | Have Your Say | Photo Gallery | Song Lyrics
Transcripts | Mailing Lists | Interviews | Other Websites | About Us | Search
---
This page is Copyright © 1999-2005, Steven Younis. All Rights Reserved
---
Jump to Steven Younis' unofficial Superman Homepage