"We, THE PEOPLE"
Chapter Ten: Christopher Reeve "The 2000 Election and Biomedical Research"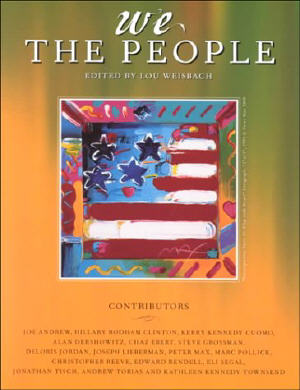 Over the last few years, we've heard a lot about something called family values. And like many of you, I've struggled to figure out what that means. But since my accident, I've found a definition that seems to make sense. I think it means that we're all family, that we all have value. And if that's true, if America really is a family, then we have to recognize that many members of our family are hurting.
Just to take one aspect of it, one in five of us have some kind of disability. You may have an aunt with Parkinson's disease. A neighbor with a spinal cord injury. A brother with AIDS. And if we're really committed to this idea of family we have got to do something about it.
First of all, our nation cannot tolerate discrimination of any kind. That's why the Americans with Disabilities Act is so important and must be honored everywhere. It is a civil rights law that is tearing down barriers both in architecture and in attitude.
Its purpose is to give the disabled access not only to buildings but to every opportunity in society. I strongly believe our nation must give its full support to the caregivers who are helping people with disabilities live independent lives.
Sure, we have got to balance the budget. And we will.
We have to be extremely careful with every dollar that we spend. But we also have got to take care of our family -- and not slash programs people need. We should be enabling, healing, curing.
One of the smartest things we can do about disability is invest in research that will protect us from disease and lead to cures. This country already has a long history of doing just that. When we put our minds to a problem, we can usually find solutions. But our scientists can do more. And we've got to give them the chance.
That means more funding for research. Right now, for example, about 250,000 Americans have a spinal cord injury. Our government spends about $8.7 billion a year just maintaining these members of our family. But we spend only $40 million a year on research that would actually improve the quality of their lives, get them off public assistance, or even cure them.
We have got to be smarter, do better. Because the money we invest in research today is going to determine the quality of life of members of our family tomorrow.
During my rehabilitation, I met a young man named Gregory Patterson. When he was innocently driving through Newark, N.J., a stray bullet from a gang shooting went through his car window... right into his neck and severed his spinal cord. Five years ago, he might have died. Today, because of research, he's alive.
But merely being alive is not enough. We have a moral and an economic responsibility to ease his suffering and prevent others from experiencing such pain. And to do that we don't need to raise taxes. We just need to raise our expectations.
America has a tradition many nations probably envy: we frequently achieve the impossible. That's part of our national character. That's what got us from one coast to another. That's what got us the largest economy in the world. That's what got us to the moon.
On the wall of my room when I was in rehab was a picture of the space shuttle blasting off, autographed by every astronaut now at NASA. On the top of the picture it says, "We found nothing is impossible." That should be our motto. Not a Democratic motto, not a Republican motto. But an American motto. Because this is not something one party can do alone. It's something that we as a nation must do together.
So many of our dreams at first seem impossible, then they seem improbable, and then, when we summon the will, they soon become inevitable. If we can conquer outer space, we should be able to conquer inner space, too: the frontier of the brain, the central nervous system and all the afflictions of the body that destroy many lives and rob our country of so much potential.
Research can provide hope for people who suffer from Alzheimer's. We've already discovered the gene that causes it. Research can provide hope for people like Muhammad Ali and the Rev. Billy Graham who suffer from Parkinson's. Research can provide hope for the millions of Americans such as Kirk Douglas who suffer from stroke. We can ease the pain of people such as Elizabeth Glaser, whom we lost to AIDS. And now that we know that nerves in the spinal cord can regenerate, we are on the way to getting millions of people around the world such as me up and out of our wheelchairs.
Fifty-six years ago, FDR dedicated new buildings for the National Institutes of Health. He said that "the defense this nation seeks, involves a great deal more than building airplanes, ships, guns, and bombs. We cannot be a strong nation unless we are a healthy nation." He could have said that today.
President Roosevelt showed us that a man who could barely lift himself out of a wheelchair could still lift a nation out of despair. And I believe -- and so does this administration -- in the most important principle FDR taught us: America does not let its needy citizens fend for themselves. America is stronger when all of us take care of all of us. Giving new life to that ideal is the challenge before us tonight.
Thank you very much.
~
The basis of my speech in 1996 was my strong conviction - shared by millions of Americans - that we are pragmatists more than philosophers. We have a long history of transforming visionary ideas into practical solutions. As Robert F. Kennedy said "I dream of things that never were and ask: 'Why not'?"
In the field of biomedical research, scientists have indeed taken us from the impossible to the improbable and now to the inevitable. Guided by the conviction that failure is not an option, researchers both at home and abroad have embraced the Democratic Party's principle that no one must be left behind.
The plea for more funding prompted an annual increase of 15 percent for the National Institutes of Health over the last four years. Hundreds of young PhDs and post-docs switched careers and joined the front lines in the battle against disorders of the brain and central nervous system. The term "incurable" has been banished from the medical vocabulary. We have mapped the human genome, discovered the virtually unlimited potential of both adult and embryonic stem cells, and developed new techniques for early intervention in the acute phase of illness and injury. It is fair to say that astonishing progress has been made in a very short period of time.
More importantly however, victims of rare diseases and disabilities are now being brought in from the margins of society, leading more productive lives and gaining the recognition they deserve as valuable members of the American family.
I believe that the first Presidential election of the new millennium is of great historical significance. We now have an unprecedented opportunity to relieve human suffering. In 1996 we made a promise to do our best to examine catastrophic illness and injuries to see if anything could be done. Now in the year 2000 we can say to millions who suffer from Parkinson's, MS, cancer, strokes, ALS, Alzheimer's, spinal cord injury and more: "With enough funding and a committed partnership between the government and the private sector, we will be able to change your life."
Already clinicians are using stem cells taken from the pancreas to cure Type 1 diabetes. Stem cells harvested from umbilical cords are being used to cure sickle cell anemia. Adult stem cells found in the bone marrow are successfully treating bone marrow cancer. Scientists have begun clinical trials in remylination, which is the key to reversing the debilitating affects of MS and certain types of spinal cord injury. Experiments with macrophages, scavenger cells that clear away debris at the site of trauma are now being used to limit the damage in the acute phase of brain injury.
Most of the leading investigators around the world are partnering with foundations, venture capitalists, pharmaceutical companies and government, working out logistics and projecting a timetable for an extraordinary range of human trials. As one expert recently said to me, "We are no longer intimidated by anything."
It is an understatement to say that cutting-edge researchers, facing the medical equivalent of climbing Mt. Everest without oxygen, are extremely cautious both in their work and how they talk about it. Never before have they been so optimistic. This election year is a perfect opportunity to join them and initiate a grassroots movement of support.
---
CHRISTOPHER REEVE
Actor, director and activist are just some of the words used to describe Christopher Reeve. From his first appearance at the Williamstown Theatre Festival at the age of 15, Reeve established a reputation as one of the country's leading actors. However, since his injury in an equestrian competition in May, 1995, Reeve has put a human face on spinal cord injury.
After graduating from Cornell University, Reeve followed his dreams of acting, studying at Juilliard under the legendary John Houseman. He debuted on Broadway with Katharine Hepburn in "A Matter of Gravity." Reeve has distinguished himself in a variety of stage, screen and television roles, a passion that continues today. Film credits include: "Superman" in 1978 and its subsequent sequels, "Deathtrap," "Somewhere in Time," "The Bostonians," "Street Smart," "Speechless," "Village of the Damned," "Above Suspicion" and the Oscar-nominated "The Remains of the Day." Stage credits include: "The Marriage of Figaro," "Fifth of July," "My Life," "Summer and Smoke," "Love Letters" and "The Aspern Papers."
Reeve made his directorial debut with "In the Gloaming" on HBO in April, 1997. The film was met with rave reviews, was nominated for five Emmys and won six Cable Ace Awards, including Best Dramatic Special. Reeve's autobiography, "Still Me," was published by Random House in April, 1998 and spent 11 weeks on the New York Times Bestseller List. His recording of "Still Me" earned Reeve a Grammy for Best Spoken Word in February, 1999. In his first major role since becoming paralyzed, Reeve starred an updated version of the classic Hitchcock thriller "Rear Window," for which he was nominated for a Golden Globe Award and won the Screen Actors Guild Award for Best Actor in a Television Movie or Miniseries. He also served as Executive Producer of the film.
While continuing to pursue his career in the arts, Reeve also remains focused on raising awareness about the profound impact medical research can have on all of our lives as well as other issues that impact those living with disabilities.
Reeve has become a powerful spokesman for people with disabilities and for the benefits of medical research. His sharp intelligence, wit and curiosity have enabled him to become an advocate for all who are affected by diseases of the brain and central nervous system.
Reeve joined the Board of Directors of the American Paralysis Association (APA) in November, 1995 and in May of the following year, he became its Chairman. In January, 1996 Reeve and his wife Dana started the Christopher Reeve Foundation (CRF), a nonprofit organization dedicated to fighting paralysis caused by spinal cord injuries.
On April 14, 1999, Reeve gave hope to the hundreds of thousands affected by spinal cord injury when he announced the merger of the APA and the CRF. Leveraging the strengths of both organizations, the newly formed Christopher Reeve Paralysis Foundation (CRPF) will remain committed to the same goals that the APA has pursued over the past 17 years and CRF has embraced since its inception: to raise funds for medical research leading to a cure for spinal cord injury paralysis. CRPF also supports programs that improve the quality of life for people with disabilities. Reeve serves as Chairman of the Board of CRPF. Other board appointments include Vice Chairman of the National Organization on Disability and World T.E.A.M. Sports.
Reeve recently has:
Lobbied on behalf of the National Institutes of Health as part of a group called NIHx2 to double the NIH budget in five years. In part because of his work, the NIH was appropriated a 15 percent increase in funding for fiscal year 1999, translating to more than $2 billion, the largest single increase ever;
Provided instrumental and crucial support for the passage of the New York State Spinal Cord Injury Research Bill (7287C), landmark legislation which will make available up to $8.5 million annually in funds collected from violations of the state's vehicle and traffic laws to be appropriated among the leading research facilities in New York;
Testified before the House Appropriations Subcommittee on Labor, Health and Human Services, Education and Related Agencies on behalf of the National Fund for Health Research Act;
Worked with Senators Jeffords and Rockefeller and Congresswoman Eschoo to raise lifetime caps on insurance policies from $1 million to $10 million;
Served as a member of the Executive Committee of "Funding First," an initiative for medical research in honor of Mary Woodard Lasker, begun by former Senator Mark Hatfield;
Joined with Senator Robert G. Torricelli to introduce legislation to create a national brain and spinal cord registry;
Worked with Senator Jeffords to help pass the 1999 Work Incentives Improvement Act (S-331) in the U.S. Senate, which allows people with disabilities to return to work and still receive disability benefits;
Established a line of celebrity neckwear that is carried at more than 1,000 JCPenney department stores across the United States. A portion of the proceeds benefits CRPF; and
Continues to work tirelessly to obtain increased funding from both the public and private sectors to cure Parkinson's, Alzheimer's, MS, ALS, stroke, as well as to repair the damaged spinal cord.
Not only is Reeve raising our awareness about the importance of medical research and the challenges facing those with disabilities, Reeve also is raising awareness about the need for families to have adequate health and disability coverage. In 1997, Reeve joined with HealthExtras, the first company to develop and price health and disability products for direct purchase via the Internet. Reeve serves as company spokesman.
Reeve's community and political involvement pre-dates his spinal cord injury. Over the course of many years, he has served as a national spokesman on behalf of the arts, campaign finance reform and the environment. He served as Co-President of The Creative Coalition from 1992-1994, and also was involved with Save the Children, Amnesty International, National Resources Defense Council, The Environmental Air Force and America's Watch. In 1987, he demonstrated in Santiago, Chile on behalf of 77 actors threatened with execution by the Pinochet regime, For this action, Reeve was given a special Obie Award in 1988 and the annual award from the Walter Briehl Human Rights Foundation.
In addition to these many roles, Reeve is the father of three children and husband to wife, Dana. An inspiration to many, Reeve maintains a rigorous speaking schedule, traveling across the country giving motivational talks to numerous groups, organizations and corporations.
---
2000 Rare Air Media
---

News Reports | Biography | Fundraising | Online Shop | Autobiography
Movie Reviews | Contact Info | Have Your Say | Photo Gallery | Song Lyrics
Transcripts | Mailing Lists | Interviews | Other Websites | About Us | Search
---
This page is Copyright © 1999-2005, Steven Younis. All Rights Reserved
---
Jump to Steven Younis' unofficial Superman Homepage