An unofficial web site dedicated to supplying fans with information on Christopher Reeve.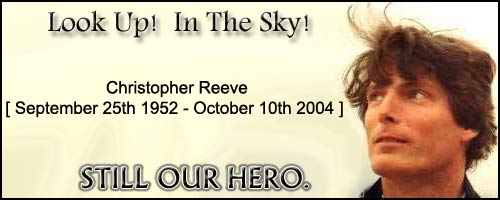 Christopher Reeve
September 25, 1952 - October 10, 2004

---
---
Powered by WebRing.
---
This website is Copyright © 1999-2021, Steven Younis. All Rights Reserved

The Christopher Reeve Homepage is frequently updated and improved. New content will be added as it is available. Although we will attempt to keep information accurate, the accuracy of the information provided cannot be guaranteed. All parties providing information on the Christopher Reeve Homepage warrant that the copying, distribution and use of such materials in connection with the Christopher Reeve Homepage will not violate any other party's proprietary rights. The seals and logos of the Christopher Reeve Homepage are copyrighted and may not be used in Web pages, electronic, or written publications without the express written permission of Steve Younis.
The linked pages maintained in relation to the Christopher Reeve Homepage are the sole responsibility of the users who have chosen to make information publicly available on the web. These pages and the opinions or information contained within are the creation of outside parties and do not necessarily reflect the opinions of the Christopher Reeve Homepage or those maintaining it.
---
Visit the Superman Homepage